God said, "Take, pray, your son, your only one, whom you love, Isaac, and go forth to the land of Moriah and offer him up as a burnt offering on one of the mountains which I shall say to you." And Abraham rose early in the morning and saddled his donkey and took his two lads with him, and Isaac his son, and he split wood for the offering, and rose and went to the place that God had said to him.

-Genesis 22:1-3
---
Sometimes, when considering a difficult passage of Scripture, the best approach is poetry. Here are a selection of poems based on the story of Abraham's sacrifice of Isaac:
---
Story of Isaac – Leonard Cohen
---
Heritage – Haim Gouri
The ram came last of all. And Abraham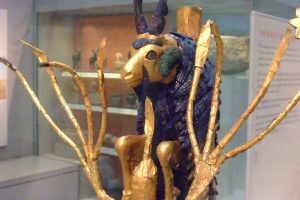 did not know that it came to answer the
boy's question – first of his strength
when his day was on the wane.
The old man raised his head. Seeing
that it was no dream and that the angel
stood there – the knife slipped from his hand.
The boy, released from his bonds,
saw his father's back.
Isaac, as the story goes, was not
sacrificed. He lived for many years,
saw what pleasure had to offer,
until his eyesight dimmed.
But he bequeathed that hour to his offspring.
They are born with a knife in their hearts.
(link)
---
Abraham and Isaac – Marilyn Chandler McEntyre
He really meant to do it.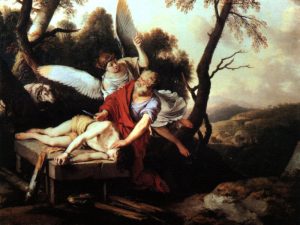 All it took was an angel's merest touch
to stop him, but the boy's hands
were tied, the father's fingers
wrapped around his jaw
(perhaps to smother him — one paltry act
of mercy before the fatal slice?).
What kind of God would require
such appalling fidelity?
What kind of father could bear
to imagine the blade
leaving its trail of red
in the tender skin of a throat
no beard has covered?
What would it take?
What must be the magnitude
of a love that would go this far?
The look in Abraham's eye
is crazed. The angel's message
relieves him (though all his life
some madness will haunt him,
and Sarah will follow his steps
with darkened eyes).
You don't have to do this
any more. Another father
will take your place
Another son will be led to slaughter.
The promise will be fulfilled,
Israel's seed will be planted.
Let him grow old and die.
(link)
---
Abraham and Isaac Sonnet – Midifo Yearns
What a journey, what a chore. What a pain and open sore

Heavy steps and silent weight; heavy heart in labored rate
Pictures flashing through the mind break the seal to open door
To insight of a parent's wait, the challenge on each parent's plate
Let go of child, beloved one, surrender precious only son
And in the process lead that child to be a man of courage mild
An adult who with race well run can sacrifice and bring the sum
Of all that he in heap has piled, dreams both calm and truly wild
To give beyond his selfish will and trust the love of parent still
This surely is the message caught within a heart so deeply taught
by faith that trusts a greater will, that does not ever wish to kill
but walks each step as he does ought, knowing that the peace he sought
will filter through and find a way to mould our lives and fill life's cup
These men of God have taught us much of parenting and growing up.
(link)
---
Jewish Travel 5 – Amichai
Every year our father Abraham would take his sons to Mount Moriah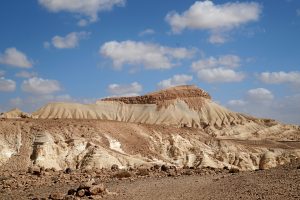 The way I take my children to the Negev hills where I once had a war.
Abraham hiked around with his sons. "This is where I left
The servants behind, that's where I tied the donkey to a tree
At the foot of the mountain, and here, right here, Isaac my son,
you asked:
Behold the fire and the wood, but where is the lamb for the burnt
offering?
Then, up a little further, you asked for the second time."
When they reached the mountaintop, they rested a bit, ate and drank,
And he showed them the thicket where the ram was caught by its horns.
After Abraham died, Isaac started taking his sons to the same place.
"Here I lifted the wood, this is where I got out of breath,
here I asked, and my father answered: God will see to the lamb
for the offering. Over there, I already knew it was me."
And when Isaac's eyes were dim with age, his children
Led him to that same spot on Mount Moriah, and recounted for him
All that had come to pass, all that he might have forgotten.
(link)
---
Sacrifice of Isaac – Madeleine L'Engle
O my father, am I really to go with you?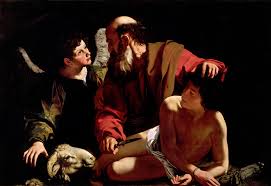 And help you with the sacrifice to the Lord?
You've never taken me before, and I've always wanted to go.
Why do you weep, Mother? We won't be long.
I'm growing up, now, and it is right that I go with Father.
Father, where is the lamb for the sacrifice?
Father, what are you doing? Father —
Father, how can the Lord want me? I am only a child.
How can you worship a Lord who wants your child?
Father, there is terrible laughter in the air like thunder.
You are not my father. I am afraid of you.
I will close my eyes. This rock is hard and cold against my bones.
This rock is. . .
Father. I heard thunder again.
You are untying the ropes which cut my skin.
You are laughing and crying, and the ram in the bush
is waiting with frightened eyes.
He does not understand, either.
(link)
---
Isaac – Amir Gilboa
Early in the morning the sun took a walk in the forest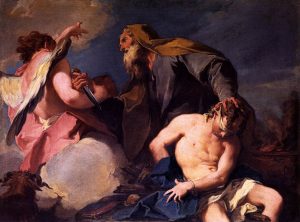 Together with me and with Father
And my right hand in his left.
Like lightning a knife flamed between the trees.
And I fear so the terror of my eyes facing blood on the leaves.
Father, hurry and save Isaac
And no one will be missing at lunchtime.
It is I who am being slaughtered, my son,
And my blood is already on the leaves.
And Father's voice was stifled.
And his face pale.
And I wanted to cry out; writhing not to believe
And tearing open the eyes.
And I woke up.
And bloodless was my right hand.
(link)
---
Silence – Rabbi Rachel Barenblat
Abraham failed the test.
For Sodom and Gomorrah he argued
but when it came to his son
no protest crossed his lips.
God was mute with horror.
Abraham, smasher of idols
and digger of wells
was meant to talk back.
Sarah would have been wiser
but Abraham avoided her tent,
didn't lay his head in her lap
to unburden his secret heart.
In stricken silence God watched
as Abraham saddled his ass
and took Isaac on their final hike
to the place God would show him.
The angel had to call him twice.
Abraham's eyes were red, his voice hoarse
he wept like a man pardoned
but God never spoke to him again.
(link)
(link to the full Akedah Cycle)